I've always admired entrepreneurs. To me, entrepreneurship epitomizes American risk-taking, pioneering behavior. They're problem solvers always on the look out for new opportunities, creating profitable solutions that address challenges large and small. Someday I hope to take the plunge, and embark on the road to become a successful entrepreneur that has a positive impact on society, but until then, and for the past couple of years, I've been like a sponge soaking up all things entrepreneurship.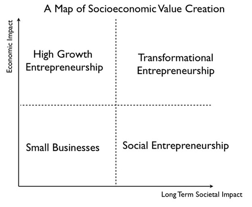 HBR came out with this great 2×2 matrix that I really like on the different types of entrepreneurship, including a new type of entrepreneurship they call transformational entrepreneurship, which HBR defines as entrepreneurs who create innovative solutions to the world's biggest problems that are scalable, sustainable, and systematic.
I like HBR's definition of transformational entrepreneurship. It's certainly aspirational, which I like, but I'm inclined to believe combining social and high-growth entrepreneurship into a profitable and scalable model is a lot easier to think and plan for than it is to actually execute.  At this point though, I struggle to think about which companies, if any, sit in the transformational category.