Heading to Toronto for the first time? Here are my suggestions on how to spend three days in and around Toronto.
Take in the views at the CN Tower
Visiting the CN Tower was one of the first things I did on my trip to Toronto, but at $45 for an adult ticket, the ticket may be expensive for some. If you go, you'll need to book your ticket a minimum of 24 hours prior to your visit. If I had to do it over again, I'd try to time my visit up the tower to be around sunset.
Tour a Brewery
Located right next to the CN Tower, the Steam Whistle Brewery. For $15, you'll get a tour of the brewery and a souvenir of your choice.
Learn about Toronto's history and architecture at Casa Loma.
I'm a huge lover of history and architecture. Although a relatively young city compared to cities in say Western Europe or parts of Asia, Toronto's Casa Loma provides a great introduction to how the city of Toronto developed during the 19th and 20th century.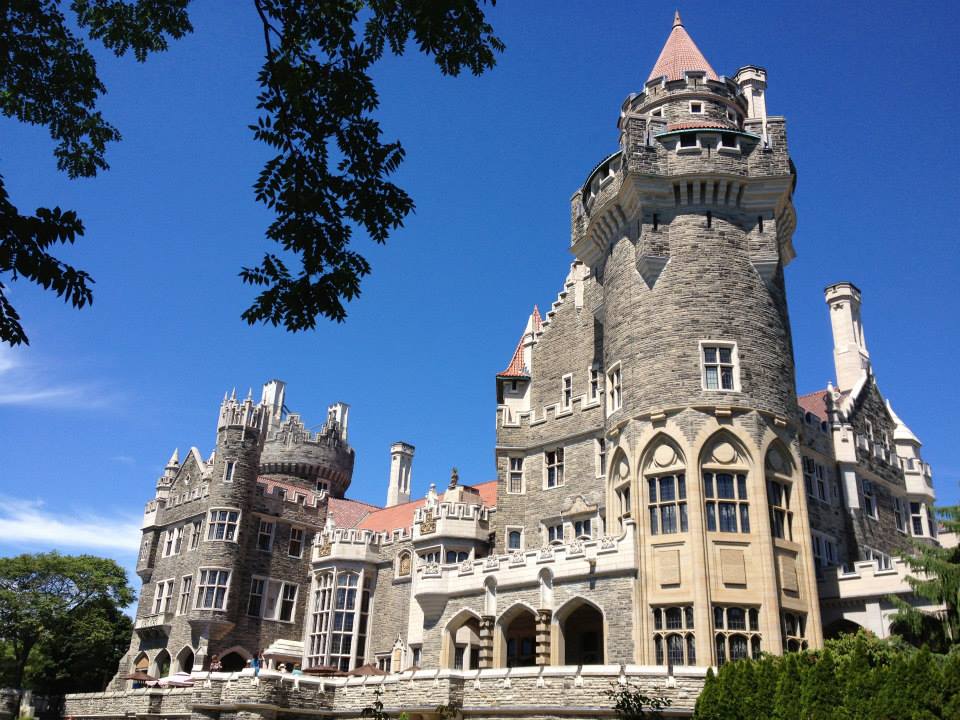 Discover Toronto's Neighborhoods
Toronto is a city of neighborhoods. And given that it's a relatively flat city, it's really easy to walk around this city without feeling overly bogged down by climbing up and down steep hills. During my visit to Toronto I mostly explored the neighborhoods around my hostel.
Visit St. Lawrence Market.
Whenever I visit a new city, as much as possible I'll try to visit a city's main local market to get a glimpse of everyday life. Main markets have a tendency to be a little touristy, so I'll also try to see if there's a local neighborhood farmers market near wherever I'm staying. During my visit to Toronto, I visited the St. Lawrence Market. It's huge!
While there definitely were a fair bit of tourists, it also seemed like a lot of locals were at the market that day.
Visit Niagara Falls
One of the great things about Toronto is how close it is to get to Niagara Falls from the city! I've always wanted to visit Niagara, and the Falls is just a quick 90 minute drive from downtown. Check out this great resource on how to get to Niagara Falls: How to Get to Niagara Falls.
Check out the largest Chinese Mall in North America:  Pacific Mall
The Greater Toronto Area is home to Canada's largest concentration of Chinese Canadians. Over in Markham, a suburb of Toronto, sits the Pacific Mall, the largest Chinese Indoor Mall in North America. Visiting this mall truly feels like you're back in the endless maze of shops throughout Hong Kong. You'll find pretty much everything you can imagine at this mall.
Markham is about a 30 minute drive from downtown Toronto.
Best Views of the City:
Unlike Chicago's skyline that runs along Lake Michigan, Toronto's skyline runs perpendicular to Lake Erie. For the best views of Toronto, I'd recommend going out on the water and exploring Toronto's Islands. The view from Billy Bishop Airport is also pretty amazing!
Where to Stay:
Toronto has a range of accommodations to choose from. For those on a budget, I'd highly recommend staying at Planet Traveler. Located near the University of Toronto, the hostel is a short 10 minute walk to the Queen's Park subway station, and is near a bunch of different neighborhoods worth exploring, including Little Italy and Chinatown.
Get Around:
If you're looking to just stay in the city, Toronto has an extensive public transport system that's pretty easy to use. If however you're looking to head out to Niagara Falls and explore Toronto's suburbs, you'll need to get rent a car.
How to Get There:
Toronto is serviced by two airports: Toronto Pearson, located in the nearby suburb of Mississauga, and Toronto Billy Bishop, located in Toronto Harbour and just a few minutes drive from downtown. Billy Bishop is serviced solely by Porter Airlines; all other airlines fly through Pearson. Toronto is just a quick 90 minute flight from most of the US. East Coast. Billy Bishop Airport.